Welcome to Southern California German Shepherd Rescue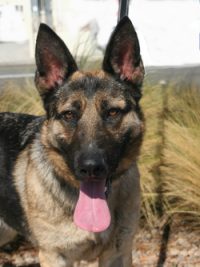 SCGSR is a 501(c)3 Charity, EIN: 20-5500458 – Donate with Confidence.
Founded in August 2006, SCGSR consists of a dedicated team of volunteers. SCGSR rescues, rehabilitates, provides spay/neuter and veterinary care, and re-homes pets in Southern California. SCGSR has rescued and placed over 900 animals. Our rescues include German Shepherds, Great Danes, Poodles, many mixed breeds, cats and kittens, a chicken, and even a boa constrictor.
SCGSR specializes in helping ill and unadoptable abandoned pets regain their health and placing them in caring, loving forever homes. Together, we can envision a day when companion animals will no longer face inhumane treatment, abandonment or perish in shelters. Visit just some of our more remarkable rescues here. For more information visit our About page.
Saving Grace.
Our young volunteer, 8 year old Sophie, is raising money for Grace, our latest needy rescue. Grace was run over by a car, chasing the ball she loves so much into the street. Two surgeries later, Grace is walking, she's regaining feeling in one of her legs, and she's begun swim therapy. Sophie is raising funds for Grace's swim therapy, and you can help
here
.