Adopted 07.29.17!
Fostered by the Allen Family!
Please sponsor me!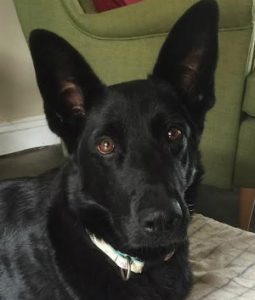 Grace is a sleek bi-color beauty. Her perpetually loving and loyal nature extends to canines as well as humans. She will happily romp with other dogs once introduced. She's happiest when all her people are around her. She values eye contact and keeps tabs on her people with an alert gaze. She has shown some separation anxiety, so she would benefit from a family with at least one member home most of the day. But as long as she has another dog nearby, she's content to go into her crate and await your return with her beloved red ball. Forever a cuddle bug, Grace will immediately accept an invitation to snuggle with her head in your lap!
Grace is a special girl, she is a TriPawd, and this is her story.  Grace is crazy about her red ball.  Her original family unfortunately threw her ball so that it went into the street and she was run over by a car.  They left her for a week before contacting a rescue.  By that time she had to have an FHO (a common hip surgery in German Shepherds) on her best side, which is now fully recovered.  Her other leg — we worked and worked on it, swim therapy, everything, but she never regained feeling in her toes.  We tried several different braces that didn't work, and the vet specialists finally recommended that that leg be removed.  Grace is fully recovered, strong, playing and ready for her home.  We know adopting a TriPawd is a big decision for any family, and will have adopters talk to our vets and make sure its the right one for their family.  Please visit TriPawds Foundation for more information.