Adopted 12.16.19!
Fostered by Marcy!
Please sponsor me!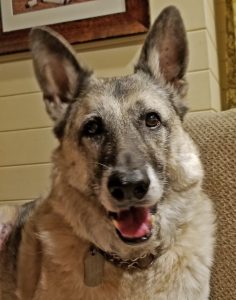 Bill is a darling senior of about 11 who obviously suffered years of neglect in silence.  He got a buff and polish when he arrived, he is vaccinated, teeth cleaned, microchipped and neutered.  He's feeling fine except like a lot of us, he's a bit creaky when he first gets up. Bill is very sensitive and loving, he is fine with other dogs.  More than anything in the world, Bill loves to go for walks up to a couple of miles and car rides with his person. He is joyful and so happy to see you, and like a typical German Shepherd he gets wound up when you put your walking shoes on.
Bill loves people and would be a perfect companion for more sedate and mature homes.  He's housebroken, rides well in the car and just an all around lovely boy.  We wouldn't be surprised if he liked cats.
Bill is on Adequan which is an arthritis injection, and allergy medication along with senior supplements. He qualifies for SCGSR's senior program, and some ongoing vet care will be provided to his adopters.