Fostered by the Gischer Family!
Sponsored by Child Support Lawyer, Marina Del Rey, CA.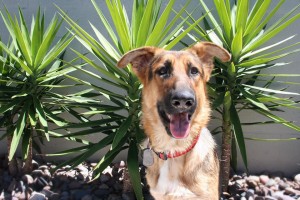 Ziggy came to SCGSR as a young (less than one year old) German Shepherd that had been found by police officers on the side of the freeway, he was unable to stand. The shelter believed his injury was recent, however when our vet operated on Ziggy's broken leg, he found that the injury was at least 3 weeks old. Where had Ziggy been until he found himself, unable to walk, on the side of the freeway?
Ziggy had a very bad break that required a large pin and a long recovery. Luckily we have a wonderful foster home where he has been loving life while he recovered.
Ziggy has the heart of a lion to have gone though what he did and still be the most happy, loving adolescent ever! He's about a year and a half old and is ridiculously cute and silly.
Ziggy is only now getting out into the big world and can still be very shy; he needs a steady and confident hand to help him enjoy life to the hilt!  In his foster home, where he is familiar with things, he is very content with multiple playful dogs and cats; however, in new situations, Ziggy is overwhelmed by fast movements and invasions of his personal space.  He would be most comfortable in a house with children either sensitive to animals or over 10 years old as well as homes with other dogs that will respect his space (at least, initially). When he finds the home that will allow him to adapt at his own pace…he'll give them his heart!  Remember, this guy had a traumatic early life!
We have seen so many times that the pain and recovery these animals go through is because there is a special family waiting for them. Ziggy is hoping to meet his special family very soon!