Adopted 08.24.19!
Fostered by Marcy!
Sponsored by Melodee!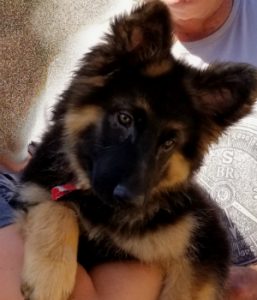 Xena our Warrior Princess is a gorgeous girl, about 3.5 months old (7.31.19). Xena is not blind, but she doesn't see well. We believe her sight is improving and she certainly zooms around like she can see fine. She comes running every time you call her name!
Xena came to us from the shelter and we've had volunteers working with her for about a month. She was in horrible condition and afraid of everything and everyone, she's made wonderful strides forward and you simply wouldn't recognize her as the same puppy today. Obviously where ever she was, she had to fight for every scrap of food and never had any human interaction. At first we had to give her treats using tongs! Now she takes treats out of hand.
She very much wants to be a good, healthy girl and she needs a family who can help her achieve that goal. SCGSR will provide adoption support, training and veterinary advice once the right home is found. Her issues are that she bites when she's frightened and needs to eat in a crate or separate area from other dogs (she's not food aggressive with humans), all understandable and all correctable with proper handling. Her forever family will have to have an open heart and and an open mind, and be willing to receive help and advice to be successful with Xena. Once you are, she is super loving and sweet.
Xena found the perfect forever home!

And she adores other friendly dogs, but she plays a bit rough . . . so young, tolerant dogs are a best match! If you've had a blind dog or a feral dog, or you have great intuition on bringing along special needs dogs and helping them succeed, you will find Xena an easy girl to love.
Please let us know in your application what experience you have with special needs dogs and how you feel you can help Xena succeed.