Adopted 02.03.19!
Fostered by Jenny!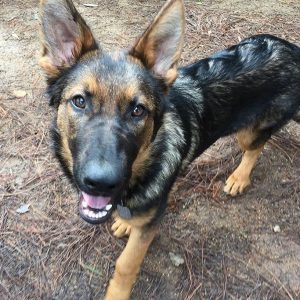 I'm a 6.5 month old red sable boy.  Someone had me who didn't know what they were getting into with a German Shepherd puppy.  I can be very boisterous, I get in your way, run into you, bark really loud, and I need to be by your side all the time.  I was found stray and landed in a scary shelter and have been decompressing in a foster home.  At first I was scared of the other dogs, now I'm a playing machine and learning my doggie skills.  I sit for treats using only hand signals, and I sleep all night in my crate next to my foster mom's bed.
My foster mom says that because I'm so special and I already had a rough start, I will be adopted only to a forever home who are very familiar with German Shepherds and have owned and trained them.  It is very important to provide structure, routine, socialization with people and dogs and daily training will be helpful for me.
You will be expected to continue training with SCGSR's trainer in San Diego as part of the adoption process.
If that's your family, submit an application today.