Adopted 05.22.20!
Fostered by the McGinnis Family!
Please sponsor me!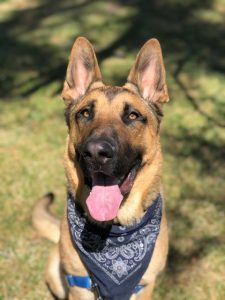 Rocky is a handsome young lad who is picture perfect and has a wonderful temperament. He's a big loveable 1-ish year old. We know little about Rocky's early days, but believe he was kept tied in a yard, alone. He's looking at those sad and lonely days in the rear view mirror now – having a blast in a foster home with other dogs, kids and a lot of room to run. His foster mom calls him a goofball, he is happy and loves to play. Rocky is in a foster home with 3 other male German Shepherds and does great. He is also great with kids and has patience for them.
Rocky is such a good boy and has a huge heart. He just wants to please you, oh and play too (yes, we mentioned play more than once). He really loves to play fetch, tug of war and chew on sticks. And as you can see from his photos, Rocky enjoys the good life. He is also house broken and hasn't destroyed anything in his foster home. He is on the larger side but that's just more to love.
Please consider adding Rocky to your loving home and submit an application today.
Due to the COVID-19 pandemic, we are doing everything possible to keep volunteers and potential adopters safe and healthy. That may mean video meetings with dogs and videos of your home and fencing prior to meeting, so please be patient and stay safe.