Fostered by the Gelsomino Family!
Adopted 10.08.17!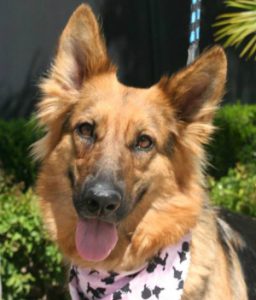 Named for her feathery beauty, this gorgeous, fluffy one to two-year old is looking for a loving family! Farrah came to SCGSR from the shelter, she had been found on the side of the road unable to walk. Our vet thinks she was hit by a car. Farrah recovered very quickly and is now all better!
She's doing great in a foster home with another female German Shepherd, and is calm, loving and dog friendly.  She would also be fine as an only dog, she's more interested in her people. She rides politely in the car, walks well on leash and is housebroken.  Besides being a real beauty, she's easy to live with and a beautiful wonderful girl!
Farrah is shy with new people and will take a while to settle in.  She will need patience to build trust but if your home is gentle and kind, you'll be rewarded with a loving and loyal best friend.  Farrah has had mixed reactions to cat testing.  Because she's shy, our volunteer cats have had trouble assessing her because they demand the tests be done in their own homes.  On walks she gets excited to see cats, during tests she ignores them.
Apply to adopt Farrah today, she would love to interview you!  Check her out, she's doing great!