Adopted 10/06/18!
Fostered by the Tepner Family!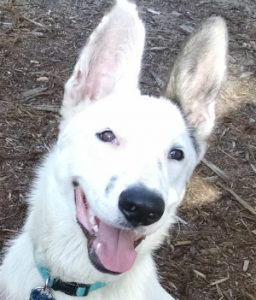 Arrow is a soft, sweet and sensitive puppy, he's close to six months old. He had a sad start because of humans, and he now has a bright future because of dog lovers like you. At only four months of age, Arrow was left to wander and landed in the shelter. His family picked him up. He again found himself in the shelter less than a month later, but he was severely injured from being hit by a car. His family no longer wanted him and deserted him to his fate.
SCGSR stepped up to the plate for Arrow. Thanks to our many supporters we were able to provide him with the expensive surgeries he needed. And against all odds, Arrow will recover 100 percent from his injuries. He's had two fractures repaired and the pin has been removed from the most severe fracture. He had to have the pin in for over six weeks, with a check by the vet every week. It was a race against time to allow his bone to mend as long as possible before he outgrew the pin, which began by sticking out and ended up underneath his skin. He's walking normally and growing like a weed, he's liable to be a big boy. Our volunteers have taken so much time and effort to help Arrow realize he is going to have a great life of being loved and cared for by a responsible family. He's even been on a vacation!
Arrow has a bump where the pin was just removed, but that will go away and there will not be any trace!
As you can guess we are seeking a forever home for Arrow, a home that appreciates a soft and loving German Shepherd boy, a home that will make sure he's safe and well loved for the rest of his days. We've promised him that. If that's you, Arrow would love to meet you. He's good with dogs and wants a home with another playful, friendly dog, and he also gets along great with cats and kids.