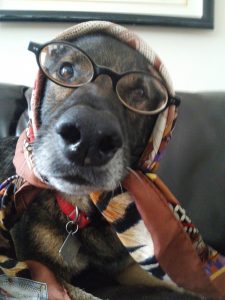 SoCal's very own Marcy suggested the introduction to Sunny. Marcy thought we would be a good fit because we had a lot of the same traits. The moment I saw her, I knew we were made for each other. But "Sunny" didn't quite fit her. So she became Wiebka (which means "war" in Old Germanic) von Wolff because, well, she looked like a beautiful wolf.  It was the perfect name for her and suited our active and adventurous union. We conquered any physical and mental challenges that faced us, always making us stronger and bringing us closer.  
From that first day forward, she was my side-kick and we were inseparable. From daily morning swims at Del Mar dog beach (we went so often that one time she ended up getting mildew because her fur was so thick and not drying sufficiently during the day!), to coaching sessions at CATS, her papa's gym where she was the mascot (even though she was a dog), acting as my legal assistant (overqualified) at the law firm where I practiced, to camping in the Wyoming mountains and chasing birds. She was always at my side.
A sweet and beautiful sable girl, she was my constant muse, patiently (sometimes) posing while I dressed her up and tried to capture her exquisite beauty.
She was my angel, my adventuring partner, my best friend who stood by me when her papa and my husband passed suddenly and we navigated through the grief side by side. We went through so much together. I am devastated by her loss, passing after a short battle with strokes and an embolism that took her life. I am eternally grateful for her unconditional love, protection, and silent guidance.
Wiebka, you are forever my Baby Precious.
~ Pinita and Stephen Nave (dec.)