Adopted 01.05.18!
Fostered by Wendy & Family!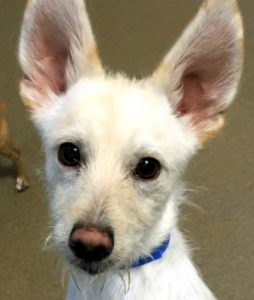 Rocket is a darling 16 lb baby, about 7.5 months on 10.17.17.   As a tiny baby he was stuck in a back yard with only his canine friends and no human interaction.  Rocket has come a very long way.  He now goes to Starbucks, shops at Petco and models Halloween costumes.  He can still be shy and needs encouragement to learn that humans can be as fun as dogs are (he LOVES dogs) – all he needs is love and a full life to thrive!  Rocket would love to see the world as your companion.
PS – We think Rocket might be part mountain goat with a touch of ping pong ball.  He said that if dogs aren't allowed on your furniture, move along!