Adopted 09.15.17!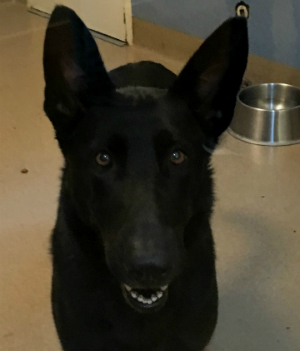 Lovely Lena is ready for her forever home! Sweet, friendly, and eager to please–this girl is the whole package!
Lena is a two year old female black German Shepherd…with a teeny bit of Lab thrown in there for extra sweetness! This big girl loves everyone she meets: men, women, kids, big dogs, small dogs…HORSES and potentially even CATS! Super smart and eager to please, Lena has a pretty good foundation for a dog who was a stray: she's housebroken, crate trained, walks well on a leash (with some reminders), loves car rides, and even shakes hands.
Lena has been relaxing in a foster home for a little while–she loves her people.  She can't wait to have a person (or a few) of her own to lavish with love and attention!  In a condo situation, she's relatively quiet, although she will alert to very loud or strange noises.  She is still a teenager, so she'll need some structure and clear expectations–she'll thrive in a confidence-building obedience course or doing basic agility.
We think this lovely dog is going to be somebody's "best dog ever"–are you ready to bring her love into your life?  Apply to adopt today!