Fostered by Marcy!
Sponsored by Melodee!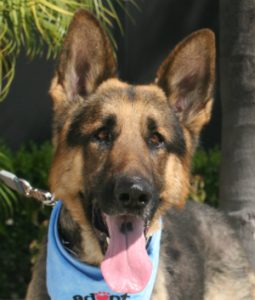 Zeus went to his first adoption event and he was amazing!  He rode nicely in the car and was one of the most well-mannered boys at the event, and . . . the tallest!  This puppy is really getting his feet under him quickly and is going to be a great dog!  Updated photos are below, look at the change in him already!  Fur is overrated and by the end of Summer he'll look like a super star!
---
Update 3.07.17:  Oh my gosh what a sweet and boisterous youngster.  While getting out the door for pack walks is a bit like the starting gate at the Kentucky Derby, Zeus soon settles in for a nice walk.  He's darling, not reactive to other dogs and just so happy.  We love this guy and promised to get him a good home!  Zeus would make a wonderful foster (he is trying to grow fur fast but it will take a while) or a fantastic companion for a forever family.  Hurry and apply before he looks like the movie star he is!
March 18 Photos
---
After a few weeks with gsrsd:
---
Zeus when he first arrived.
Zeus is a large youngster recovering from a skin infection.  He's very sweet but obviously hasn't been treated with love or given the vet care he needs.  SCGSR is going to change all that and give Zeus a happy, healthy and well-loved life.  Stay tuned for more information and photos!