What have we learned over 11 years of rescue and about 800 dogs? German Shepherds are very sensitive to food! Certain ingredients almost always cause problems. You can save money on food but then spend it at the vet dealing with hot spots, fur loss, gastrointestinal issues and scratching, or you can educate yourself and spend a little more on food and avoid all these issues, for the most part.
First and foremost, read the ingredient labels and know what to look for. Spending a lot of money for food doesn't necessarily mean your German Shepherd will thrive on it. Dog food has swung over the past 10 years from quality food being hard to find to an amazing array of premium foods, many formulated and advertised to appeal to your human tastes and ideas of nutrition.
Keep it Simple!
Many high price foods contain so many ingredients, you can be sure your German Shepherd will find something to be allergic to or which he can't digest, which will result in problems nobody wants to deal with.
Single protien, single starch foods are what we find works best. If your dog is eating food with multiple proteins or starches, you will have a much more difficult time figuring out what's bothering him.  If you stay with single protien/single startch, you can easily switch from turkey to salmon, rice to sweet potato, or vice-versa. We have the best luck with limited ingredient diets, and we recommend Dick Van Patten's Natural Balance Limited Ingredient, and Nature's Domain which is also sold at Costco and is very reasonably priced.  Our rescued dogs and puppies thrive on Nature's Domain.
Ingredients to Avoid.
Dogs suffer from food intolerance far more than from allergies to their environment.  Here is a list of the most common allergens.  If your dog has allergies and you have him on a limited ingredient diet, you can switch diets and see if there is improvement, avoiding these ingredients.  Always switch diets slowly by mixing prior food with new food in increasing proportions to avoid upset stomachs!  Remember treats and snacks of any kind may introduce allergens, and avoid their use during your experimentation with diet.  Pig ears, rawhide, and any food/treat that says "wash your hands after touching" should not be introduced to your dog's diet – ever.  If you wonder why, google how they're made.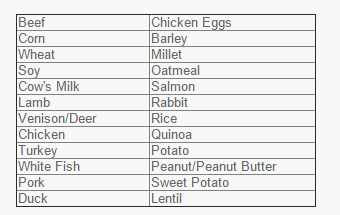 Raw Feeding.
Do we? Yes we do, at times.  When we rescue very debilitated dogs and puppies, we have seen raw diets bring them back from death's door.  Do we feed bones?  Only ground bones since we've been to the vet more than once to have a bone fragment removed from the exit point.  Once a dog has gotten back on its feet, we switch it back to a quality limited ingredient diet.  Raw feeding is a commitment on your part, with a lot of learning and time involved, and it can be very worthwhile depending on your dog's particular issues.
Supplements.
Every dog will benefit from fish oil capsules and they learn to love them.  Northern breeds such as Huskies often suffer from zinc deficiency and will suffer from thinning patches of fur and begin to recover immediately once zinc supplementation is initiated.  Read about zinc deficiency.  If you're feeding your dog a healthy diet on which he's doing well and is healthy, other supplementation is usually not required until a dog enters his senior years, when supplementation to help with joints can begin.
Posted in: Health