Rowdy's Run -- SCGSR 1st Annual Walk-a-Thon!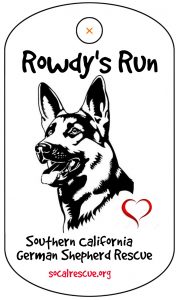 SPECIAL PUPPY WHO FILLED HEARTS TO SPREAD HOPE TO DOGS IN NEED ON VALENTINE'S DAY WEEKEND
RESCUE HONORS BRAVE PUP IN FIRST ANNUAL ROWDY'S RUN
Rowdy, Southern California German Shepherd Rescue's 2016 rescue ambassador passed away peacefully in the arms of his furever family last night. The love of his foster family and care of his cardiologist allowed Rowdy to outlive the predictions of all his doctors. Rowdy was a young German Shepherd, sold by a breeder at 8 weeks old. At his first vet appointment, his new vet diagnosed a fatal heart condition, Patent Ductus Ateriosis or PAD. A valve in his heart never closed, and without surgery Rowdy would not survive. SCGSR agreed to take Rowdy under its wing and provide the expensive surgery. Sadly, Rowdy's cardiology appointment and testing didn't go the way the vets predicted. He did not have PAD. He was diagnosed with severe aortic damage and an enlarged heart from an untreated infection as a very young puppy. His condition was inoperable. The specialists predicted he would not live past six months old. A special foster family took Rowdy in to their home and hearts and we are grateful to them. Thanks to his big hearted foster family, he never suspected he was anything other than happy and loved. Rowdy filled all of SCGSR's volunteers and supporters with hope and gratitude. Rowdy lived to a year old and that proves to us that miracles do happen.
Please help us create more miracles
Announcing the First Annual SCGSR WALKATHON!!!!
ROWDY'S RUN
Where: Lake Murray – 5540 Kiowa Dr., La Mesa, CA When: Saturday – February 11, 2017 8:30am
Why: To raise funds to save the lives of the many pups that will be dumped in shelters after the novelty of Christmas puppies wears off. As a bonus, walk off those holiday pounds. And of course to honor Rowdy!!!!
Sign up to walk here: http://socalrescue.org/walkathon-registration/
Sign up to Sponsor Rowdy's Run: http://socalrescue.org/rowdys-run-sponsorship/
SPONSORS:
Barkindales Dog Wash
La Mesa Auto & Tire
VCA Main Street Animal Hospital