Please foster me!
Please sponsor me!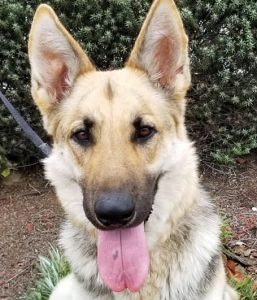 I'm Kona!  Nice to meet you.  I love you already and will get in your lap and roll over for belly rubs!
I'm a very high energy girl, and can leap several feet in the air.  I would make a great agility dog and I'm not bragging!  SCGSR says that I need a tall, safe fence because almost any fence is no challenge for me.  I can even live in a condominium if my family gives me enough exercise.
I prefer some dogs over others, definitely, and will do well with a large, calm male dog.  But I would probably prefer no canine competition, since I'm a beautiful princess.  The video below is me with Winston, he's a calm guy and I did pretty good when I met him.